Nursing Pillow for Breastfeeding - Ultimate Buying Guide for 2023
Breastfeeding takes patience and practice.
Breastfeeding is one of the most rewarding and joyful experiences of a mother's life.  It has many benefits for both babies and moms. For babies, it contributes to the overall growth and development. For mothers, it reduces the risk of breast and ovarian cancers.
During the initial few months, breastfeeding can sometimes be a bit tricky, particularly for first-time moms. There are many nursing accessories available to make breastfeeding more relaxed and comfortable. One of the most commonly used is the nursing pillow. The primary purpose of breastfeeding pillow is to support your baby by lifting them to the level of your breast.
In This Article
What is a Nursing Pillow?
A nursing pillow, also known as a baby feeding pillow or a breastfeeding pillow, is specially designed to feed babies (breast or bottle) comfortably. Feeding pillows provides back, neck, and spinal support to the mother. Generally, it goes around the mother's waist and holds the baby over it.
Comfortable and convenient, nursing pillows are available in many shapes and sizes:
C-Shaped or U-Shaped breastfeeding pillow: It fits around a mom's belly to provide comfort and support during nursing sessions. This style of pillows is suitable for curvy or plus-size women also. The difference is that C-shaped nursing pillows sit in front of the mom's belly with little to no wrapping, and U-shaped pillows go around the mother's waist.
O-Shaped: It fits around a mom's belly like the letter 'O.' Before buying this style of the pillow, make sure to check the size.
Arm Pillow: It slides onto mom's forearm and does not wrap around the body. This style pillow is portable but needs little practice to get used to it.
Most commonly used breastfeeding pillows are C-Shaped or U-Shaped, as they are multipurpose and flexible.
Is a Nursing Pillow Necessary for Breastfeeding?
Mothers have successfully breastfed their babies without the help of any nursing accessories. In ~1990, the first nursing pillow introduced as a luxury breastfeeding item. After seeing the advantages of feeding pillow to breastfeed a baby, this luxury item became a necessity for the new moms.
A right nursing pillow can be of great help to lift the baby to an ergonomic position and relieve your back and arms during long feeding sessions.
Nursing pillow's primary function is to provide support and comfort to the mother and baby during breastfeeding sessions. For Mom — Comfort, arm, and lumbar support. For Baby — Head, neck, and body/back support.
When you're breastfeeding day and night for months, not having the proper support may lead to arm injuries and spinal, neck, and back pain. Since a breastfeeding pillow does all the heavy lifting for you, therefore we recommend buying one.
Having a nursing pillow on your lap ensures you're raising your baby's head toward your breast rather than slumping down to bring your nipple down to her. Particularly if you're a first time breastfeeding mom, using a nursing pillow can significantly affect both you and your baby's nursing comfort.
Moreover, the use of a nursing pillow doesn't end here. As most of the breastfeeding pillows are multi-functional, you can also use them for:
Baby's tummy time.
An aid for sitting.
Prenatal/postpartum sleep support for mom (never for baby).
When to Start Using a Nursing Pillow?
WHO recommends initiating breastfeeding as soon as within the first hour after delivery. Therefore you can add a feeding pillow to your hospital bag checklist. It will be beneficial during the first nursing session and will provide support and comfort immediately after delivery.
Purchase a nursing pillow with an extra cover before the baby is born.
Benefits of Using a Breastfeeding Pillow
The benefits of a feeding pillow are not limited only to breastfeeding. It can also benefit you and your little one in many other ways:
#Support Your Back During Pregnancy: you can also use a breastfeeding pillow to be comfortable during pregnancy. Particularly in the last trimester of pregnancy, when it becomes tough for you to bear the pregnancy weight, you can use a nursing pillow to support your back.
A good latch is essential for your baby to breastfeed effectively and for your comfort.
#Provides Support After C-Section: If you have had a C-section, using a feeding pillow can relieve the pressure from your stitches. It helps in healing faster and making nursing less painful. Place the breastfeeding pillow gently against your belly during nursing sessions.
#Bring Relief from Episiotomy Pain: If you have had a vaginal birth with an episiotomy, sitting on a feeding pillow can pressure off stitches while you heal.
#Eases Breastfeeding in a Sitting-up Position: Many women prefer to breastfeed their babies while sitting. In this position, you need to raise the baby to breast level so she can latch properly. A nursing pillow allows you to bring the baby close to your breasts, so you don't bend forward.
#Helpful in Bottle-Feeding: Bottle feeding can strain your arms and neck because you have to hold your little one for an extended period. To relieve this pain, you can lay your baby on the nursing pillow. Other family members, like Dad, Grandma, or Nanny, can also use it to bottle feed your infant.
#Relieves Your Baby's Colic and Reflux: Many babies experience reflux or colic after breastfeeding. Placing your little one up against the feeding pillow might help prevent stomach contents from flowing back into the mouth.
#Prevents Common Nursing Issues: An improper breastfeeding posture can cause several painful nursing problems. It includes sore and cracked nipples, arm numbness, and blocked milk ducts. A breastfeeding pillow keeps you away from all these nursing issues by helping you get a good latch.
The hours and hours of holding a baby and trying different feeding positions can lead to aches and pains in the back, neck, shoulders, and even the wrists!
#Great for Tummy Time: According to the American Academy of Pediatrics, tummy time is essential for newborns. It helps strengthen the muscles in their neck and back and minimize the chances of Flat Head Syndrome. You can use the nursing pillow as a prop to help your little one during tummy time. To use your breastfeeding pillow during tummy time, place a blanket on the floor, and put the pillow on top of it. Also, put a few toys in front of the pillow to hold your baby's attention. Then, place your baby gently on the pillow from the stomach side, with her arms and shoulders propped on top of the nursing pillow.
Be sure to supervise your little one at all times during tummy time. If her arms and shoulders slip off the pillow, reposition them immediately.
#Serves As a Sitting Aid for Baby: Once your little one grows up a bit, you can use the breastfeeding pillow to support her back when she attempts to sit on her own. Even after your baby's muscles get stronger, you can place the nursing pillow around her as a cushion to minimize her chances of falling over.
Improper use of a nursing pillow can cause backache and arm pain in mothers.
Essential Features to Look for in a Nursing Pillow
#Size: Make sure the feeding pillow is neither too large nor too small, and it fits you comfortably. If the pillow is too large, it may slip, and the baby may have trouble latching. But if it's too small, you may have a gap between your thighs and the pillow, which can result in sliding the pillow down due to the baby's weight.
#Shape: Nursing pillows come in different shapes, each with unique benefits. Opt for one which suits you best.
#Adjustable: Go with an adjustable nursing pillow that is customizable for the best possible fit.
#Washable: Make sure the feeding pillow is super easy to clean, water-resistant, and doesn't retain smell. Even better if the cover is removable and washable. Try to get covers that are machine washable. Always keep an extra nursing pillow cover handy.
#Stays Firm: Make sure the nursing pillow starts off firm and retains its firmness. You will use your pillow for at least an initial six months of nursing until the baby can fully control her head.
#Multi-purpose: Choose a pillow that you can utilize for different purposes.
Step by Step Instructions on How to Use Breastfeeding Pillow for Nursing Support
Follow the steps and tips given below to learn how to use a nursing pillow to make breastfeeding a success:
#Step 1: Make sure you're well supported and sitting comfortably.
#Step 2: Put the nursing pillow around your waist before you lift your little one in your arms.
#Step 3: If your feeding pillow is adjustable and comes with a clasp, insert the pillow sideways and fasten the buckle.
#Step 4: Settle in a feeding position that helps the baby get a good latch on to your breast.
#Step 5: Adjust the straps and the height of the pillow for optimum comfort and support.
#Step 6: Rest your baby's head on the nursing pillow and start breastfeeding. Use your free hand to adjust your baby's head for an even better latch.
To ensure successful breastfeeding, remember the following tips:
Place your baby on the firm side of the feeding pillow.
For a good latch, make sure your breasts sit on the nursing pillow, like a shelf.
If there is a gap between the pillow and your legs, fill that space with a regular pillow or two.
A must-have for the first year of your newborn baby. This breastfeeding pillow designed so that it can be convenient and comfortable for both mom and baby.
It provides neck and head support to your little one. This premium quality nursing pillow helps lift the baby to an ergonomic position to ensure successful breastfeeding. Additionally, it also provides relief to the mother's arm and back during long feeding sessions.
Key Features:
Adjustable belt with a buckle makes it easy to put on and take off
Water-resistant filler keeps spills away to keep the fiber hygienic and smell free
Extra fluffy and filled with soft cushioning to make the breastfeeding even easier
Washable pillow cover that zips on and off easily for hand or machine washing
Conclusion
Convenient and multi-functional, feeding pillow are a great feeding accessory to have, whether you choose to breastfeed or bottle-feed. Right from the moment your baby is born to the end of your breastfeeding journey, they ensure a smooth and comfortable feeding experience for both mom and baby. Additionally, they are versatile and useful for various purposes, from helping your baby learn to sit up to prop her up during tummy time.
So what is your favorite nursing accessory?
3pc. Breastfeeding Pillow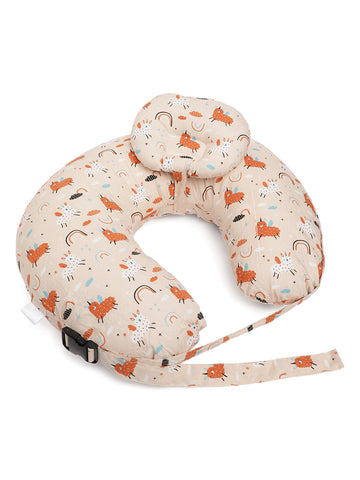 3pc. Breastfeeding Pillow
3pc. Maternity Breastfeeding Pillow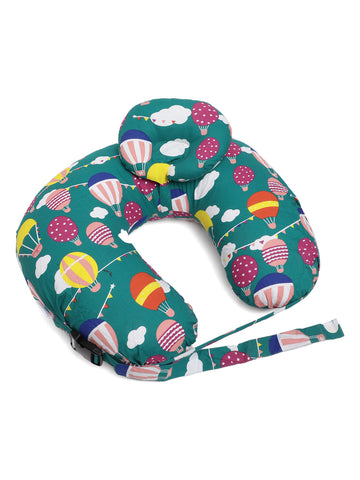 3pc. Maternity Breastfeeding Pillow
3pc. Nursing Pillow